Mexican-Style Eggs-In-A-Nest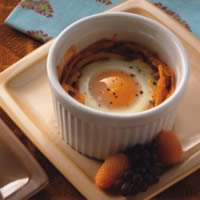 Servings: 4
Prep Time: 5 min.
Cook Time: 20 min.
Total: 25 min.
Ingredients
2 cups shredded
refrigerated or defrosted frozen hash brown potatoes
I would try freshly shredded potatoes or squash unless you can find fozen potatoes without any additives
1 cup shredded Cheddar cheese (4 oz.)
1/2 tsp Mexican or taco seasoning
4 eggs
salt and pepper
Directions
Heat oven to 375°F. Combine potatoes and cheese in medium bowl. Sprinkle with seasoning; toss to mix.
Divide mixture evenly among four greased 1-cup ramekins or custard cups; press against bottoms and halfway up sides. Place on baking sheet.
Bake in 375°F oven 10 minutes. Break and slip an egg into each potato nest. Bake until whites are completely set and yolks begin to thicken but are not hard, 10 to 15 minutes longer. Sprinkle with salt and pepper.
_________________
Linda
"God grant me the serenity
to accept the people I cannot change,
the courage to change the one I can,
and the wisdom to know it's me."
"And ye shall eat in plenty, and be satisfied, and praise the name of the LORD your God, that hath dealt wondrously with you: and my people shall never be ashamed.